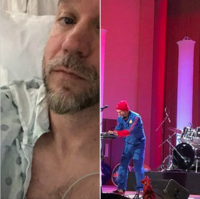 As many of you are aware, Mover Scott recently suffered a spontaneous nonaneurysmal subarachnoid hemorrhage (NASAH), spending five days at East Jefferson General Hospital, four of which were in ICU.
Presently, he is resting and recuperating. There are two medical follow-ups, but Scott's prognosis is excellent. The Docs said this should be a momentary blip on his timeline, thankfully. Regardless, the whole experience has been ripe with reflection. If you are interested in his time in ICU, Scott composed a poignant Facebook post.
To all of our concerned fans, we want to thank all of you for your thoughts, prayers, good vibes, and messages.
Truly, we are so glad you're here.