New CD/DVD Presale and PledgeMusic Campaign
Calling Mover Nation -
For the past ten years, we have dedicated ourselves to creating treacle-free children's music and videos that the whole family can enjoy together.
Right now, the Movers are about to record our ninth album and video content we want YOU to be an integral part of its creation. Think of this as a PRE-SALE for our project.
http://www.pledgemusic.com/projects/imaginationmovers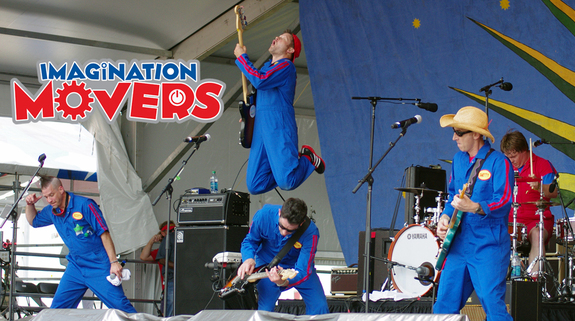 Because this is a fan-funded project, we're making ourselves as accessible as ever and offering tons of exclusive items & experiences that are only available to pledgers. These include handwritten lyric sheets, signed merchandise, your name in the album credits, postcards from a Mover and tons more stuff. We will offer Skype sessions and personalized videos for special occasions. Heck, a Mover will even make a video teaching you the chord changes for any of our songs or create for you a one-of-a-kind, personalized work of art.
Beyond just raising funds, a percentage of your pledge will go to support the National Down Syndrome Society. As National Partners of the Buddy Walk program we try to do more than talk the talk and this is one more example of our commitment. Remember when you pledge, the objective of this campaign is to show everyone that with the support of the Mover nation, together we can create and do something truly special.
Without your support for who we are and what we do, we simply couldn't be able to continue.
Much love and respect,
Rich, Scott, Dave and Smitty